More Photo's Here: http://flickr.com/photos/dixieprecision

We mill our own rubber. Our roll covers include, nitrile, hypalon, neoprenes, silicone, urethane, etc. If you want to experiment with a rubber formulation give us a call. Dixie Precision can recoat your rubber roller.

Here is an incomplete list of the some of the rubber rolls we refurbish: wringers, bridles, casing, chemical, chemtreat, hold down, applicator, nip, print, glue spreaders rollers , paper mill rolls, textile rollers, deflectors, stidhs, squeegee, steel and metal rollers. We have also had many rollers re-chromed.

With our large balancing machine we can handle both your static and dynamic balance needs.

Our roller repair services include journal repairs (idle end & drive ends), bearing work, complete industrial roll repair.We repair Industrial rollers. New rubber Covers, Recovers, Grinds, re-grinds. We fix rubber rolls & rubber rollers. Re surface rubber rollers and resurface rubber rolls.

Not only can we recondition your older rollers, but we build (machine) new cores in our precision machine shop. We can fabricate new cores up to 60" in diameter and 38 feet long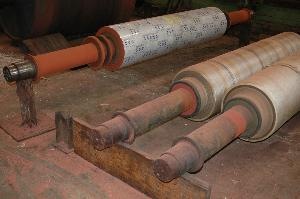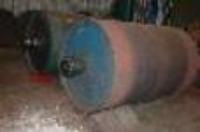 In addition to recovering and regrinding rubber rollers, we are one of the largest job shops in the Birmingham area.

We can pick up and delivery to the following areas, Chattanooga, TN. Nashville, TN, Memphis, Tennessee. Atlanta, GA. Dalton, Georgia.. Meridian ,MS, Columbus, Miss, Jackson Mississippi., Pensacola Florida, Panama City, FL. Mobile Ala, Huntsville, AL Shreveport,. LA. Monroe, Louisiana.



| | |
| --- | --- |
| | |
| | |

Re-coat Rubber Roll Manufacturing, roller fabrication- Designer and Custom Manufacturer of new & recovered rubber & urethane rollers. industrial rolls, industrial rollers & coverings & coatings . We can manufacture new rollers on site, or refurbish your old rubber roller. Covers (Roll Re-coating) (Roll Re-Covering) to specification We mill our own rubber to your exact specifications. Natural Rubber (NR) , Nitrile Rubber (NBR.XNBR) EPDM, SBR . Silicone , Polyurethane . Elastomer Blends. Grinding of Rubber Rollers , Shaft repair, Journal repair and roller reconditioning, roller repair, roller refurbishing. Grooving & Crowning Capabilities. Grind rubber rolls and Re-Covered Rollers, dynamically balanced New Rollers, roller fabrication- we can manufacture rollers on site- we machine new cores, New custom roller cores fabricated from aluminum, steel, or stainless steel . New custom roll cores machined from aluminum, steel, or stainless steel. Roller sizes from 2" up to 444" total length and up to 60" diameter. Rubber roll repair, dynamically Recovering and regrinding of rolls up to 60" in diameter and 444" in Length. Coat roller

Dixie Precision can fix your rubber Roller. Dixie Precision can fix glue spreader roller. fix rubber roll. refurbish rollers, repair rolls.

rubber roller repair in Alabama rubber roll repair in Alabama rubber roller repair in Tennessee rubber roll repair in Mississippi rubber roller repair in Georgia rubber roll repair in Florida